The 20th Century: 1910-1919
1911
Miss Percy Powers became the first school nurse in North Carolina in 1911. She cared for the school children in Salem (now part of Winston-Salem). She remained in this position until 1917 when the city of Winston-Salem established a health department and hired Nurse Powers as the supervising nurse.
1912
Mary Mills, the second Mary Mahoney Award winner from North Carolina was born in Pender County. She graduated from Lincoln Hospital School of Nursing in 1934, and continued her education earning a Bachelors and Masters degree as well as a certificate in nurse midwifery. Mills was the first nursing director for the Public Health Nursing Certificate program at North Carolina College (now NCCU). She then joined the US Public Health Service earning the rank of Captain while starting nursing schools and maternal child health clinics in countries around the world.
Minutes from the NCSNA record that "welfare nursing" was being preformed at the Durham Hosiery Mills, Lydia Holman gave a report on rural nursing at the annual convention. Mrs. M.L. York was the "Almshouse nurse" for Winston Salem and had been so for several years.
World War I, 1914-1918
Although many European nations went to War in 1914, the US did not enter the War until April 6, 1917. Thousands of nurses volunteered for service, including many from North Carolina. Madelon "Glory" Battle Hancock, a nurse from Asheville was the most decorated woman (not only most decorated nurse) from any country in all of WWI.
The American Nurse Association (ANA) drafted its first model nurse practice act. The North Carolina State Nurse Association successfully lobbied the state legislature to modify the NC Nurse Practice Act to incorporate many aspects of the model proposed by the ANA.
Willliam C. Morris's diary from OTEEN Veterans Administrative Hospital near Asheville, which discusses nurses in the hospital are in the western NC archives in Asheville.
1914
National Negro Health Week, a forerunner to national Public Health week was initiated.
Passage of the Harrison Narcotics Act. Until 1914, there were no illegal drugs in the United States. Anyone could walk into a drug store and purchase cocaine, heroin, morphine and numerous other medicines. The US Congress passed the Harrison Narcotics Act making certain drugs/medications available only by physician prescription for the first time.
Mary Lewis Wyche, founder of NCNA and 3 other NC nurses went to Jacksonville Fla to attend Confederate veterans at thier annual convention.
1915
The American Red Cross established the Town and Country Nursing Service for rural area s nationwide. Between 1915 and 1935, the Red Cross placed public health nurses in 52 of North Carolina's 100 counties. These nurses provide the only proffessional health care available to many North Carolinians for years.
Minutes from the NCSNA report that Durham now had an Almshouse nurse. Lillian Wald went to Asheville to discuss child labor problems there. Wiston Salem had 1 public health nurse and Greensboro had 2. There were school nurses in Winston-Salem, Wilmington and New Bern.
The NC General Assembly passed Public law 284 stating an institution that cared for African American patients had to employ African American nurses to care for those patients. In essence, white nurses were forbidden from caring for African American patients. The "up side" of this law is that many more African american nurses were hired than wouluod have been hired without the racist law.
The next year, 1916 the NCSNA allowed African American nurses to sit for the state boards (NCLEX) for the first time. A few African American nurses (Charlotte Rhone in New Bern, Annie Lowe Rutherford and others) who ahd graduated from accredited (northern) nursing schools by 1903 were registered by county clerks based on thier diplomas and letters of recomendation, as was the law for all nurses (black adn white) in 1903 before the first State Boards were given in 1904. Below is the law - it was rescinded in 1925.
Learn More: NC General Assembly Chapter 284 Section 1
CHAPTER 284. AN ACT TO REGULATE THE EMPLOYMENT OF COLORED NURSES IN HOSPITALS. The General Assembly of North Carolina do enact: Section 1. That in every public and private hospital, sanatorium, and institution in North Carolina where colored patients nurses. are admitted for treatment and where nurses are employed it shall be mandatory upon the management of every such hospital, sanatorium and institution to employ colored nurses to care for and wait upon said colored patients. Sec. 2. That every person, firm or corporation violating the Misdemeanor, provisions of this act shall be guilty of a misdemeanor and upon Punishment, conviction thereof shall be fined the sum of fifty dollars for each and every offense. Sec. 3. That all laws and clauses of laws in conflict with the provisions of this act are hereby repealed. Sec. 4. That this act shall be in force from and after its ratification. In the General Assembly read three times and ratified this the 9th day of March, 1915.
1916
Miss Sadie H. Cabiness was hired as the first Director of Public Health Nursing for NC. The NC Bureau of Tuberculosis hosted all 35 public health nurses in the state at Sanitorium, NC for a meeting about pubic health issues in North Carolina. Tuberculosis was the main focus of the meeting since it was the leading cause of death at that time.
Nurse Louise Toomer, working for $3 a day, made the first survey of all the nursing schools in NC. Her report found conditions ranging from very good to abysmal. This report, along with later ones conducted by Nurse Edith Redwine, first official nursing school inspectress in NC, create the data needed to pass laws and guidelines standardizing nursing school curricula and nursing student living conditions across the state.
Mary Briscoe, RN was the first African American nurse to sit for and pass the NC Board of Nursing Exam in 1916.
1917
The National League for Nursing Education issued its first Standard Curriculum for Schools of Nursing, the first nationally endorsed uniform curriculum guide for nursing training programs.
North Carolina passes a law establishing a nursing training school inspector appointed by the NCSNA. The next year, the NC League of Nursing Education is formed as a section of the North Carolina State Nurses Association. The next two decades see an increased interest in nursing education, with more carefully planned curricula, higher entrance requirements, better facilties and more highly educated nursing instructors.
1918
Hundreds of North Carolina nurses care for those stricken with the Spanish Flu in a worldwide influenza pandemic.
Nurses in the infirmary as well as many local women cared for students at NC State University during the 1918 Spanish Flu. The infirmary staff included an African American nurse named Ella McGuire, who recalled the pandemic years later. Because so many students were sick, women from the Raleigh community volunteered to provide care, and two succumbed to the disease, including Eliza Riddick.
Bessie Roper of Asheville died while nursing students at UNC -Chapel Hill during the Spanish Flu edpidemic. Nurses Eliza Riddick and Lucy Page died while nursing students at NC State University in Raleigh. A "Volunteer Nurses Memorial Fountain" was constructed in their honor in front of the Wake County Court House. When the old Court House was demolished the plaque on the fountain was moved to the NC State campus.
Learn More: Influenza Pandemic of 1918
One of the most deadly pandemics in modern history took place during World War I, from 1918 to 1919. Nearly one-third of the planet's population became infected with this horrible sickness, resulting in life expectancy dropping by over 10 years. The virus killed an estimated 20 to 50 million victims, with over 670,000 of them being American.
First discovered in the United States, Europe and parts of Asia, the flu quickly spread around the world, with many of the victims being healthy, young adults, surprisingly. Vaccines and flu preventon medicine like Tamiflu weren't around 100 years ago, so many Americans took to wearing masks in public places, such as schools and theatres.
Numerous businesses were forced to close, due to so many employees being infected. Mail delivery and garbage pick-up were supremely halted. Even health departments and hospitals closed up shop, only adding to the nightmare.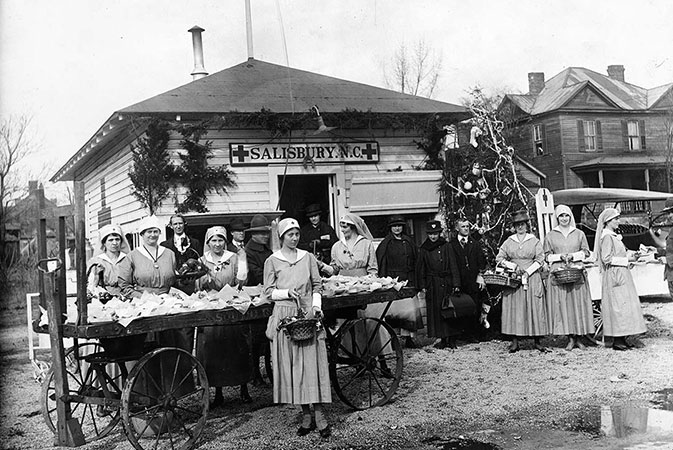 Above image: Red Cross Nurses at Salisbury, North Carolina on Christmas Day, 1918.
People who caught this vicious virus often died within hours or days of symptoms appearing, their lungs rapidly filling with fluid, causing them to suffocate. Historian and author Alfred Crosby has been quoted as saying the virus "killed more humans than any other disease in a period of similar duration in the history of the world."
By the summer of 1919, the flu virus finally came to an end. The infected either built up an immunity or, more likely, (and sadly) mortally succumbed to the disease. Per History.com, in 2008, "researchers announced they'd discovered what made the 1918 flu so deadly: A group of three genes enabled the virus to weaken a victim's bronchial tubes and lungs and clear the way for bacterial pneumonia."
In recent memory, many people can think back to H1N1, otherwise known as the "swine flu," a virus that took the lives of 12,000 Americans between 2009 and 2010. With incredible advancements in modern medicine, we all remain hopeful that nothing like either of these cases will ever happen again.
- Excerpt from article by Kerry Burns, North Carolina Museum of History
Learn More: The Influenza Pandemic at App State, 1918-1920
1919
The North Carolina legislature appropriated funds for six full-time school nurses, hired through the NC Department of Health to travel statewide to provide services for all students up to the seventh grade, regardless of race. The first six nurses: Birdie Dunn, Cleone Hobbs, Mrs. H.P. Guffy, Flora Ray, Cora Beam and Katherine Livingston remained in their jobs for over 18 years. In the first two years, the six nurses inspect and follow up on 92,566 students and educate countless teachers and parents on issues affecting the children's health.
Rex Hospital School of Nursing students strike in 1919.

Cooper, Dr. George Marion, Photograph Collection, ca. 1914-1940 - The collection belonged to Dr. George M. Cooper, a pioneer public health official who was associated with the North Carolina State Board of Health for thirty five years. It mainly consists of photographs taken in conjunction with his public health career and includes views of schools, students, dentists, nurses, public buildings, scenic views, etc. Housed at the NC State Archives in Raleigh.
Newspaper Clippings from 1910-1919