Amelia Lawrason Wilson
North Carolina's First Public Health Nurse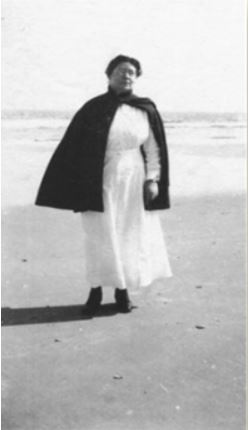 Public health nursing began in North Carolina as benevolent societies, civic organizations and groups of public minded citizens hired nurses to home visit the sick poor in their communities. Amelia Lawrason was the first public health nurse to practice in NC. Born to George and Mary Caroline Lawrason, on January 20, 1874 in Fayetteville, she graduated from the Washington Training School for Nurses in Washington DC in 1902 (or 1903). Soon after graduation, she moved to Wilmington to care for her grandmother. In the fall of 1904, she was hired by the Ministering Circle of the King' Daughters/Chapel of the Good Shepherd an ecumenical women's Christian benevolent organization, to provide home care to the sick poor of Wilmington. Upon her marriage in 1906 to Arthur Young Wilson, she left Wilmington. The Wilsons had 1 daughter, Mary Elizabeth Wilson in 1910. Lawrason Wilson died in Vancouver, British Columbia, Canada on August 19, 1946.
Although she only worked as a public health nurse in Wilmington for two years, she was highly regarded. A portion of an article titled "Our District Nurse" in the February 19, 1905, Wilmington Morning Star reads:
"In taking up the work of district nursing, Miss Lawrason is putting aside the more independent and more lucrative life of the trained nurse for the simply Christian purpose of doing good to the large number who need but can not pay for her services …. With the skill and knowledge of a trained nurse she carries the brightness and sympathy of a true Christian character. Already there are many families in which she is beloved."