Nancy Vance
Pioneer Public Health Nurse
Biography from Virginia Commonwealth University Libraries
Citation: "Nancy Vance," VCU Libraries Gallery, accessed August 6, 2019. Available at https://gallery.library.vcu.edu/items/show/77979.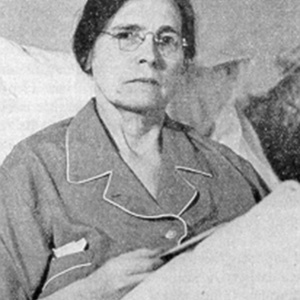 A pioneer in public health nursing, Nancy Vance devoted her career to improving the health of school children in Virginia. For over twenty years, Vance traveled the state tirelessly to work with mothers and children. Although her career was cut short by her untimely death in 1942 her spirit lives on through the Nancy Vance Pin Award, an honor bestowed biannually by the Virginia Nurses Association for nurses who exemplify her life and character.
"The fact that Virginia today has one of the best school health programs in the Union is due in no small degree to the indefatigable zeal and unconquerable devotion of Nancy Vance"
Richmond Times-Dispatch January 4, 1942
Birth Date: 1886-10-10
Birthplace: Mecklenburg County, NC
Death Date: 1942-02-18
Death place: Charlottesville, VA
Nancy Vance came to the Virginia Department of Health in 1919, "to assist in the promotion of health education in the schools." Jessie Faris wrote, "being possessed of a true pioneer spirit she continually sought new and effective methods to advance the work." Most significant was the Five-Point Program of Child Health whereby students in the public schools received certificates for meeting standards for weight, vision, hearing, throat and dental health. In 1926, 27,816 children received certificates and through her efforts in 1932-1933 there were 139, 828 with the numbers climbing in subsequent years.
Vance traveled the state tirelessly working with mothers and children in churches, schools, and wherever she found them. She helped many children obtain correction of physical defects. An article in the Richmond Times-Dispatch just prior to her death stated: "the fact that Virginia today has one of the best school health programs in the Union is due in no small degree to the indefatigable zeal and unconquerable devotion of Nancy Vance."
Vance was awarded a five-point, star shaped pearl-studded pin by Dr. Ennion G. Williams, Commissioner of Health for Virginia in 1925 for her efforts to make the Five-Point Standard of Health a working program for the school children of the Commonwealth. She was also selected to be on the Virginia Honor Roll of 1941, one of only two women in the group of thirteen to be recognized as a person "who reflected credit upon the state through the display of courage, ability, intelligence, tenacity, generosity or unselfishness."
While hospitalized during her terminal illness with cancer, Vance established a fund to help cancer patients when she found there was little or no assistance for "the care and treatment of incurable cases." Before her death in 1942, the fund had grown to over $2,000. The money was given to the University of Virginia for the purpose established. Today there is a Nancy Vance Fund for Cancer Research at the University with a current market value in excess of $250,000.
Vance gave her treasured five-point star pin to her friend Ellen Smith. Smith in turn, gave the pin to Richmond Professional Institute as an annual award to the public health nurse in Virginia doing outstanding work in her field. The pin was first awarded to Nora Spencer Hamner in 1942. Subsequently the pin was presented to the Graduate Nurses Association of Virginia for presentation every two years. The qualifications for the recipient were expanded to include outstanding nurses in addition those in public health. Jessie Wetzel Faris, first executive secretary of the Graduate Nurses Association of Virginia was the first to be so honored by the Association. Twenty-five outstanding nurses have received the award since. In 2000, the Virginia Nurses Association recognized Vance as one of fifty-one Pioneer Nurses in Virginia.