Mildred I. Clark
US Army Colonel; 12th Chief of the US Army Nurse Corps 1963-1967
Mildred Irene Clark, the youngest daughter of five children, was born on 30 January 1915 in Elkton, North Carolina. Her mother was Martha Darling Clark and her father, William James Clark, was a farmer and Methodist minister. After receiving her diploma from Baker Sanatorium Training School for Nurses in Lumberton, North Carolina, in 1936, Clark attended two six-month postgraduate courses. The first was a curriculum in pediatrics offered by the Babies Hospital in Wrightsville Sound, North Carolina. The second program at the Jewish Hospital in Philadelphia, Pennsylvania, prepared specialists in operating room administration and technique. Elizabeth Pearson, an instructor in Clark's training school, initially sparked her student's interest in the Army Nurse Corps. Pearson had served in the Corps in World War I and proudly demonstrated her status in the American Red Cross First Reserve after the war by always wearing her Red Cross pin. This mentor instilled in Clark the idea of patriotic service. Knowing that competition among applicants for the Army Nurse Corps was formidable, the determined Clark submitted her request for active duty one year in advance while still a student in the postgraduate course. Surprisingly, within fourteen days Clark received a request to report to Walter Reed General Hospital for a physical examination. Clark's application undoubtedly reflected her genuine love of country and convinced the gatekeepers that she was a prime candidate for the Army Nurse Corps.


Excerpt from article in The Tarheel Nurse (June 1965)
In an address at High Point's Armed forces Day observance last month, Colonel Mildred Clark commended North Carolina as the first state to pass registration laws for nurses and for recent steps to improve nursing education in this state.
She said the Army Nurse Corps shares in the over-all national shortage of 80,000 professional nurses. The Corps, she said, is about 40 percent short of meeting its requirements of Army Nurse Corps officers for active duty.
Colonel Clark stated: " The Army has historically supported education and provided financial assistance to worthy young women and men to enable them to complete a basic program in nursing education … The Army has not only been the user but the replenisher of nurse power for this nation …
"Nursing has changed – we have new responsibilities and new requirements since automation and scientific discoveries are being made at a rapid pace. Learning and teaching are a must and we are committed. Clinical specialization is emerging because of the need for better prepared nurses to render direct care to the sick and injured, supervision, teaching, and research. The image of nursing has changed along with the roles which need interpretation in the community."
Colonel Clark also reviewed the history of the United States Army and stressed the importance of unity in national goals and efforts.


Biographical Sketch from The Tarheel Nurse (1966)
NCSNA Member Named to Top ANC Post
Lieutenant Colonel Mildred I. Clark, a native Tar Heel and long-time member of NCSNA, has been appointed chief of the Army Nurse Corps, effective in September.
Colonel Clark is a graduate of Baker Sanatorium School of Nursing, Lumberton (now Southeastern General School of Nursing). Her home is Clarkton, N.C. Following graduation at Baker Sanatorium, she completed post-graduate programs in pediatrics at the Babies Hospital, Wilmington, N.C., and in operating room administration and techniques and anesthesiology at Jewish Hospital, Philadelphia, Pa.
She has been certified by the American Board of Nurse Anesthetists and received her B.S. in nursing education from the University of Minnesota.
During her service with the Army Nurse Corps, Colonel Clark has filled both professional and administrative positions, such as chief of the nursing service, General Headquarters, Far East Command; chief nurse of the 98th General Hospital, U.S. Army Europe; and director of the personnel procurement programs for Army Nurse Corps and Army Medical Specialist Corps officers in the Office of the Army Surgeon General. Her assignments have taken her to Germany, Hawaii, Korea, Guam, Okinawa, Philippine Islands, Saipan, and Japan.
Colonel Clark is author of many articles on nursing, including Army nursing, from the public relations aspects to the dynamics of interpersonal relationships. In 1956 she wrote "The Prayer of an Army Nurse," which has been adopted by the Corps as its Creed.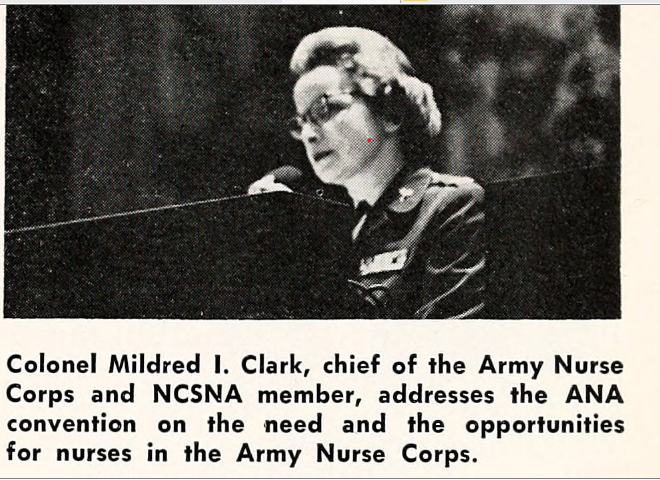 (Photograph from September 1966 issue of Tar Heel Nurse, p.27.)


Mildred Irene Clark (Woodman), World War II Nurse and 12th Chief of the US Army Nurse Corps
Hear my prayer in silence before Thee as I ask for courage each day. Grant that I may be worthy of the sacred pledge of my profession And the lives of those entrusted to my care. Help me to offer hope and cheer in the hearts of men and my country, for their faith inspires me to give the world and nursing my best. Instill in me the understanding and compassion of those who led the way, for I am thankful to You for giving me this life to live [22].
Prayer for an Army Nurse written by Clark in 1956
Mildred Irene Clark was born on January 30, 1915 in Elkton, North Carolina, a crossroads community in rural Bladen County in the Coastal Plains section of the state. She was the youngest of five children born to Martha and William James Clark. Her mother was a housewife and her father was a farmer and Methodist minister. In 1936, Clark earned her Diploma in Nursing from the Baker Sanatorium Training School for Nurses in nearby Lumberton [23]. Clark enlisted in the Army in March, 1938, at Fort Bragg, and was sent to anesthesia school at the Jewish Hospital in Philadelphia, Pennsylvania. After graduating as a Nurse Anesthetist in 1940, 2nd LT Clark was ordered to Pearl Harbor, Hawaii for service at the Army Hospital at Schofield Barracks [23]. Clark arrived in February of 1941. Just ten months later the Japanese attacked US Forces at Pearl Harbor, on December 7, 1941. After the bombs started falling, Clark ran from her barracks to the hospitals and did not leave the hospital for almost three weeks. During that time she delivered anesthesia to hundreds of men prior to their surgeries and nursed the wounded postoperatively. Clark recalled the attack on Pearl Harbor this way:
"Loud explosions awakened me and I heard the planes overhead … they flew so close I could hear the radio communications between the pilots. In one minute I dressed and ran to the hospital. The hospital was hit even though the hospital building had a large red cross painted on the roof … casualties were arriving on stretchers as I reported to the operating room, with ambulance siren wailing in the background. In a short time the nine operating rooms were extremely busy while patients waited for care in the corridors… All day and into the evening I went from one patient to another without sitting down or having a cup of coffee … Patients had arms and legs amputated, severe chest and spinal wounds, abdominal and cranial wounds …"[22]
The attack on Pearl Harbor that Clark witnessed firsthand launched the U.S. into World War II, declaring war against Imperial Japan on December 8, 1941. Clark was then assigned to set up a nurse anesthetist training program in Hawaii for nurses being deployed in the Pacific theater of war. Her administrative abilities were noted and she was rotated stateside during the war to serve as assistant chief nurse or chief nurse at a variety of hospitals and forts [24].
After World War II, Clark was promoted and assigned to Korea as the Director of Nursing in the Army of Occupation. She initiated a training program for Korean nurses who later formed the nucleus of the Republic of Korea Army Nurse Corps. Within a year she was again promoted to Chief Nurse of the Far East Command in Tokyo, Japan. In 1950 when the Korean War broke out, Clark, along with Major Edgar Hume established the 8054 and 8055 Mobile Army Surgical Hospitals (MASH) that were the first military medical units sent into Korea to aid the soldiers[24].
In 1955, after the Korean War, Clark was assigned as the Procurement Officer in the Surgeon General's Office. At that time there was a nationwide shortage of nurses in both military and civilian hospitals. Clark is credited with initiating creative recruiting projects including radio shows, short films, and brochures and working to establish the US Army Student Nurse Corps program that gave financial assistance to students in return for an active duty commitment [22].
Clark was appointed as Chief of the Army Nurse Corps in 1963 [25]. The escalation of the Vietnam War in the mid-1960s created a 2,000- nurse shortfall for the Army [23]. Clark's highest priority was to recruit qualified nurses to send to the field of battle. During her four year term several programs were initiated and upgraded. Clark established the corps' requirement that all nurses earn bachelor's degrees. Under Clark's leadership, male nurses received commissions in the Regular Army for the first time. During her career, she achieved the highest military rank open to women, the rank of Colonel [24]. Clark was also very influential in securing the rank of General for future Army Nurses Corps.
After her retirement in 1967, she married Ernest Woodman, a retired US Army Colonel and settled in Ann Arbor, Michigan. She remained active in professional nursing and retired military personnel organizations. Clark received many honors and awards for her years of service to the military and the country before her death in 1994. Clark's decorations and awards included: the Distinguished Service Medal and the Army Commendation with Oak Leaf Cluster, an award of excellence from Sigma Theta Tau, the national nursing honor society, the University of Minnesota's Outstanding Achievement Award, being inducted into both the Michigan Women's Hall of fame in 1993, and the Michigan ROTC Hall of Fame in 1994 [35]. She was honored by her hometown in the nearby county seat of Clarkton, North Carolina, on Irene Clark Day. However, perhaps her highest honor came after her death when, in 1999, the US Army dedicated the Mildred I. Clark Health Clinic, the first building named in honor of a woman at Fort Bragg, NC [36].
References unavailable
Biographies
Biographical article in the Tar Heel Nurse June, 1963 issue page 6.
Articles about Col. Clark

Gunn, I.P. (2000). Pearl Harbor, the Korean conflict and Col. Mildred Irene Clark. AANA Journal 68(6). Pp 487 - 490.
Pollitt, P.A. & Humphries, A. (2013). Nursing in a Time and Place of Peril: Five North Carolina Nurses. Journal of Nursing Education and Practice. http://dx.doi.org/10.5430/ jnep.v3n9p176.
Articles by Col. Clark
Clark, M.I. (1953) Nurses are public relations builders. The American Journal of Nursing. 53(6) pp.703-705.
Clark, M.I. (1957) You can be a civilian nurse and reservist too. The American Journal of Nursing. 57(2) pp. 204-205