Mary Singletary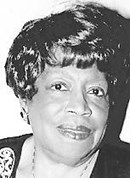 Mary E. Singletary has held positions of leadership all throughout her distinguished working career, so many in fact, that we are forced to mention only a few.
Currently, she is the president of the National Council of Women of the United States (NCW/US), the oldest non-sectarian women's organization in the United States. The NCW/US was founded in 1888 by such luminaries in United States history as Susan B. Anthony, Clara Barton, Julia Ward Howe, and Sojourner Truth. Today, the NCW/US is an accredited United Nations Non-Governmental Organization (NGO) and is headquartered at the United Nations in New York City. Mary Singletary was elected President of the National Council in June 2003. This position is a logical extension of her educational endeavors and her passionate concern for the social, political and economic progress of women.
A registered nurse, Ms. Singletary graduated from St. Agnes Hospital School of Nursing in Raleigh, North Carolina and holds a B.A. degree in Health Education from New Jersey University. She has served proudly as a leader of health initiatives for women and children and the advancement of business and professional women locally, nationally and internationally.
As Director of the New Jersey Division for Women, an appointment by then Governor Thomas Kean, Ms. Singletary created a greater public awareness regarding women's issues through public outreach and legislation. Ms. Singletary also served as the Director of the Governor North Jersey Office, an appointment by Governor Christine Todd Whitman and was accepted for continuation by Acting Governor Donald T. DeFrancesco. In this office Ms. Singletary continued to make a difference through constituent relations and special projects regarding women's issues and concerns.
Locally Ms. Singletary was appointed to a key school board position, responsible for the Districts Magnet Schools Programs, and managing fund-raising efforts. Other positions of leadership she held during her long tenure in public life include, Director of the Planned Parenthood of Essex County, and United Nations Representative.