Margaret Dolan
National Nursing Leader; 1st ANA President from NC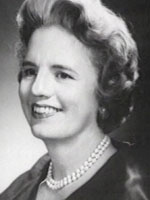 Margaret Baggett Dolan was the 5th of nine children born to John and Allene Keeter Baggett on March 17, 1914 in Lillington, NC. She decided to become a nurse and enrolled in the Georgetown University School of Nursing in Washington, DC. She graduated with her Nursing Diploma in 1935, at the height of the Great Depression. Concerns about the health of the American people prompted President Roosevelt and the US Congress to fund new programs and positions in many branches of public health, including public health nursing. Dolan was one of these nurses, working for health departments in Washington, DC, Baltimore, MD and Greensboro, NC as well as for the US Pubic Health Service. In 1944 she went back to school and earned her BS degree in Public Health Nursing from UNC-Chapel Hill School of Public Health and in 1953 she graduated with a Masters Degree from Teachers College, Columbia University. After stints as the nursing supervisor at the Greensboro City Health Department, the Baltimore County Health Department and the US Public Health Service, Dolan came back to Chapel Hill in 1950, as a faculty member in the School of Public Health's Public Health Nursing program. She stayed at the UNC School of Public Health until her death 23 years later in 1973, working her way up from Associate Professor to Chair of the Public Health Nursing Department.
While Dolan lived and taught in her beloved Chapel Hill, she was a major figure on the national nursing stage. She has been the only nurse to serve as President of the American Nurse Association, the National Health Council, the American Journal of Nursing Company and the American Public Health Association. Working with Dean Lucy Conant of the UNC School of Nursing and Dr. Isaac Taylor of the UNC School of Medicine, Dolan was instrumental in developing one of the first nurse practitioner programs in the country. Throughout the 1950s, 1960s and early 1970s, Dolan frequently testified before the US Congress on issues related to nursing and health care.
Dolan also served as a consultant to the US Department of Defense, the US Surgeon General, and the Department of Health, Education, and Welfare. She was national treasurer for Sigma Theta Tau, vice president of the American Nurses Foundation, held various offices in the NC and US Tuberculosis Societies, the NC and National League of Nursing and in the American Association of University Professors. Dolan represented the United States at International Council of Nursing meetings in Frankfort, Germany and Melbourne, Australia. She consulted about health matters with the governments of Ghana and Thailand Dolan was a sought after speaker, a prolific author and a gifted teacher. She was an advocate for racial minorities, the uninsured and vulnerable people everywhere. Believing health care ought to be a right, she worked tirelessly through education, legislative advocacy and public persuasion to bring changes to law and policy to ensure high quality health care is available to all who needed it. To this end, she was an early proponent of advanced practice for nurses, universal health insurance, and government funding for expanding healthcare facilities and training health care personnel. All North Carolina nurses have benefitted from the life and work of Margaret Dolan.
In 1970, Duke University awarded Dolan an Honorary Doctor of Laws Degree. A portion of the citation she was given reads:
"You have given generously of yourself as a nurse, not only to elevate the standards of your profession but in seeking ways to raise the level of health care throughout the world … As you have moved forward, individuals have been overwhelmed with your constant energy, your compassion for all and your own humility. You have brought honor to your native State of North Carolina".


Margaret Dolan Career Highlights
1957-1959: President - North Carolina Nurses Association
1960: President of the American Journal of Nursing (AJN) Company
1960-1964: Appointed by President Kennedy to the Presidents' Committee on the Status of Women
1962-1964: First President of American Nurses Association (ANA) from North Carolina (Over the years, she also served as Second Vice President, Chair of the Public Health Nursing Section and on the Board of Directors of the ANA)
1962 -1968: Appointedby President Kennedy to the Presidents' Committee on Health Resources "ANA's Margaret B. Dolan speaks out on civil rights". (September 1,1963). California Nurses Association Bulletin, v. 59
1964: Received ANA Honorary Membership Award for distinguished national or international service to the nursing profession.
1968: Received ANA Pearl McIver Public Health Nurse Award for significant contributions to public health nursing.
1968-1972: Appointed by President Johnson to the Social Security Administration's Health Insurance Benefits Advisory Council.
1969-1970: Elected President of the National Health Council
1973: Elected President of the American Public Health Association
1984: Inducted into the American Nurse Association Hall of Fame

Margaret B. Dolan, RN, MA (Deceased) NCNA Hall of Fame Induction 1984 Essay
Margaret B. Dolan, RN, MA, deceased, began her nursing career in the diploma program at Georgetown University School of Nursing in Washington, D.C. A native of Lillington, she later went on to receive her BSN from the University of North Carolina at Chapel Hill and an MA from Teachers College, Columbia University, New York.
Margaret Dolan dedicated her career to improving both nursing as a profession and public health nursing as a specialty. She advocated for additional education preparation as the mechanism for advancing the profession, enhancing public health nursing specialty practice, making nurses more effective in impacting health outcomes.
Ms. Dolan was a staff nurse with the Nursing Division of Guilford County Health Department during the early 1940's. As a faculty member of the School of Public Health at UNC Chapel Hill, she taught extension courses for the public health nurses during the early 1950's. While serving as chairman of the Department of Public Health Nursing School of Public Health, she also served as a consultant for health surveys in the communities.
Nationally, Ms. Dolan holds the unique status of having been the only person who has served as President of three national organizations. The American Nurses Association, The National Health Council, and The American Public Health Association. She was also the first President of the ANA to hail from North Carolina. She served as Consultant to the Department of the Army and to the Department of Public Health and Public Health Nursing. Ms. Dolan was appointed by President John F. Kennedy and subsequently by President Lyndon B. Johnson to serve on the National Advisory Health Committee.
In 1973, the Public Health Nursing Section of the North Carolina Public Health Association (NCPHA) established an award in her honor to recognize "excellence of public health nursing service and leadership in providing health services to citizens of North Carolina." This award is still presented annually at the NCPHA annual meeting to a public health nurse who exemplifies excellence.
"Ms. Dolan left an indelible mark on nursing and public health in North Carolina, the United States and throughout the world. She was a woman of grace and charm and devoted her life to improving nursing as a profession and public health nursing as a specialty. Her vision of nursing and public health gave many a roadmap to follow as we worked to advance our profession and pursue our professional goals."


References:
"A tribute to Margaret Dolan" (May, 1974). Association news. American Journal of Public Health. 5.
Dolan, M. (February, 1961). "Scholarships needed for teachers of nursing" The Health Bulletin
Dolan, M. (December, 1969) "Partnership in health". The Health Bulletin
Dolan, M. (1962). Putting our own house in order. American Journal of Nursing. 62(12). pp 76-79.
"Changes in nursing education: Mrs. Margaret Dolan outlines future needs in address at state-wide conference on Associate Degree Programs" (December, 1964). Tar Heel Nurse. pp 32-33.
Green, E &. Dolan, M (1960). On financing. American Journal of Nursing. 60(10) pp.1479-1481.'
Ingles, T & Dolan, M (1960). On developing skilled practitioners. American Journal of Nursing. 60(10) pp. 1482-1484. (See Thelma Ingles in biography).
Raleigh News and Observer "Tar Heel People" Dec 18, 1960