Elizabeth Kemble
First Dean of UNC-Chapel Hill School of Nursing
Biographical Sketch Carolina's Nursing Pioneer
By Alyssa LaFaro, UNC University Research, March 16, 2017. Original version available at: https://www.unc.edu/discover/nursing-pioneer/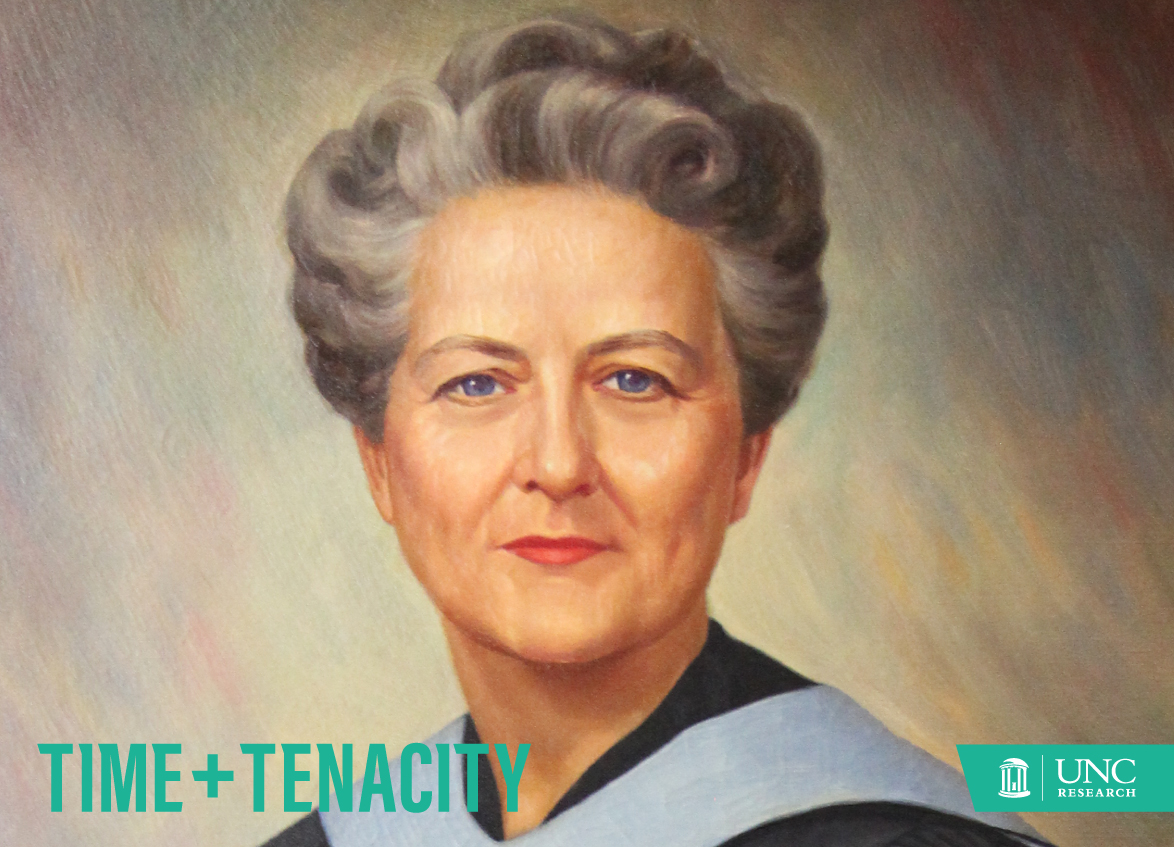 In August 1950, Elizabeth L. Kemble took a road trip across North Carolina. She traveled nearly 600 miles from Murphy to Manteo, stopping at filling stations, professional offices, and stores along the way to chat with her new state neighbors. She wanted to know them, to understand their personalities and needs.
That's what made the founding dean of the UNC School of Nursing such a powerful figure. She was passionate for people and truly cared about individuals — characteristics of not only a great leader but a dedicated nurse. "I took quite seriously that the boundaries of the university were the boundaries of the state," she once told a reporter from the Winston-Salem Journal. "I felt we had an obligation to the people."
Before she came to North Carolina, Kemble spent years in the nursing profession. She earned her nursing diploma in 1927, followed by a bachelor's degree from New York University in 1940. By 1948, she had both a master's in nursing and a doctorate in nursing education — accomplishments almost unheard of for a woman of her time.
By 1950, she had held teaching positions in Ohio, New Jersey and New York; was associate director of the Nurse Testing Division of the Psychological Corporation; and had achieved national prominence as the director of the Department of Measurement and Guidance of the National League of Nursing Education.
When it came time for UNC School of Medicine Dean Walter Reece Berryhill and his team of physicians to recruit applicants for the dean of nursing position, Kemble was a standout player. They knew she was an "exponent of the most progressive thinking in her profession, and that she had the background and experience to build a curriculum and pick a staff to carry it out," writes Gayle Lane Fitzgerald in her short history on the School of Nursing.
Beyond professionalism, Kemble brought a regimented but kind demeanor to the classroom. She once said: "There is no such thing as a menial task in caring for a human being." And that's what she did for her students. Upon recruiting the first-ever female freshman class for the new school, she interviewed each student personally, making note of their individual needs.
"She was very welcoming and warm," Bette L. Davis, one of the school's first graduates of the four-year program, remembers from her entrance interview. "I was concerned about whether or not I would be admitted because some of my grades weren't where they should have been my first few years of high school. But she stressed that everything would be taken into consideration, and I was accepted into the program."
And when the first year of the master's program had just one student enrolled because two dropped out, Kemble still provided a top-notch learning environment and education.
"When we needed larger discussion groups she rallied the whole hospital from the administrator to the supervising nurses," said Audrey Booth, the School of Nursing's first Master of Science in Nursing Administration degree holder.
Kemble skillfully guided the nursing school down a difficult road filled with the familiar potholes of 1950s and '60s gender biases. Not only did she rally Dean Berryhill to give the program proper placement within its own school alongside big players like the School of Public Health and the School of Pharmacy, but she also fought for funding for a proper building. Carrington Hall wouldn't be erected until 1970.
Additionally, she constantly encouraged her female students to persevere beyond the many hurdles that lead to dropouts such as marriage, a lack of role models, and personal fears of failure.
"The ethos of the UNC School of Nursing is one of pioneering, and you can draw a straight line to Elizabeth Kemble as the source of that ethos," said Nena Peragallo Montano, the current dean of the nursing school. "Her vision and energy for this school at its founding made their way into our institutional character, and her fingerprints are on each of the many firsts for which we're so well known. Her passion to bring better healthcare to the people of North Carolina is an inspiration to me personally, and continues to guide the work we do here each day."